The advent of the #metoo movement has put sexual harassment in the forefront of workplace discrimination. However, sexual harassment is only one type of workplace discrimination that can destroy company culture and result in costly lawsuits.
The key is to be mindful of all types of workplace discrimination, not just sexual harassment.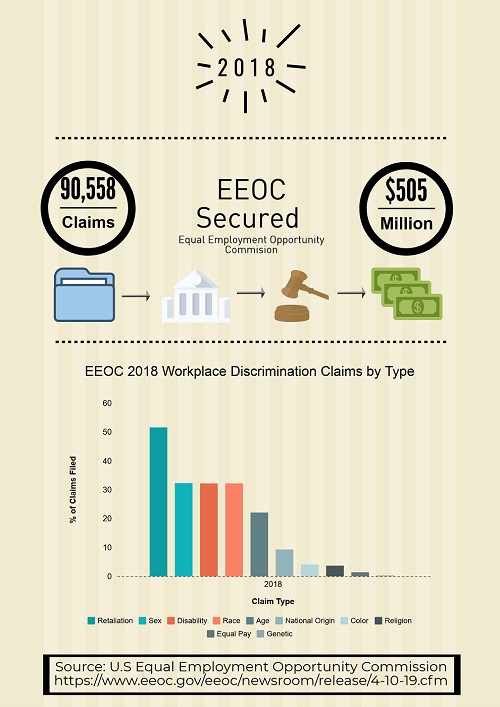 Types of Workplace Discrimination
Discrimination can occur in any workplace situation from hiring to firing. If any employment action or decision results in favoritism or prejudice against an individual or group, this can constitute discrimination in the workplace.
It is imperative that employers do not exclude potential candidates or employees by making assumptions (intentional or unintentional) regarding:
Age
Gender
Race
Ethnicity
Skin Color
National Origin
Mental or Physical Disability
Genetic Information
Relationship to someone who may be discriminated against
Pregnancy or Parenthood
It is important to note that discrimination is often in "the eyes of the beholder". Employers must be aware of how easy actions and wording can put them in a discriminatory light. For example, a candidate for hire or an employee may have a winning discrimination lawsuit if one of the following situations occurs:
Job posting/ad indicates limiting qualities outside essential job duties (e.g. "recent graduates" indicates ageism, discouraging older people from applying)
Employee benefits and compensation are not the same as for other employees
Equally qualified employee working the same job is given different salaries/hourly wages
Work environment is hostile (e.g. verbal or sexual harassment by a supervisor or coworker)
Make no mistake, it is the responsibility of the employer to ensure discrimination does not occur in the workplace or is indicated in terms of hire. To prevent situations that are viewed as discriminatory, employers must first establish policies to ensure everyone in the organization is on the same page.
Policy, Procedure, and Training
In today's day and age, all employers should have well established and maintained HR policies regarding discrimination in the workplace, without exception. That's the first step. The second step is to make sure all employees, especially supervisors, are regularly trained on policies and procedures.
When a discrimination complaint is made, the employer must investigate promptly and completely with well-established procedures. Specifically, managers/supervisors should be well versed in the proper course of action. If the situation is against a specific individual, the organization must also take prompt action against the employee(s) engaging in the discriminatory conduct.
Walk the Talk
Sound HR policies and procedures are essential to prevent any type of workplace discrimination, especially sexual harassment. However, they are pointless if the day-to-day behavior exhibited by leadership and employees do not support an inclusive environment. Everyone must "walk the talk".
When this is done, a positive work culture is achieved, where everyone feels safe, respected and included. Remember, discrimination not only hurts those targeted, but hurts the reputation, workplace culture and bottom line of the organization.
Create a Discrimination Free Workplace with Sound HR Policies, Procedures and Training
SACS Consulting and Investigative Services, Inc. helps organizations create sound HR Policies for Sexual Harassment/Discrimination and training for The Prevention of Sexual Harassment/Discrimination to ensure a safe, productive work environment for all. Contact us to speak with one of our HR Policies specialists for more information today!