With fall soon approaching, U.S. school district officials all over the country can't help but reflect on their school's readiness to keep students safe throughout the upcoming academic year. As past active shooter incidents have shown, there is much need for safety improvements.
To address the concerns of teachers, staff, students and parents, it's important to remember that reliable school security must be approached holistically:
Prevent
Prepare
Respond
All three areas need to be addressed. This gives school districts a fighting chance to lower the number of violent incidents, especially active shooter incidents, for the 2019-2020 school year.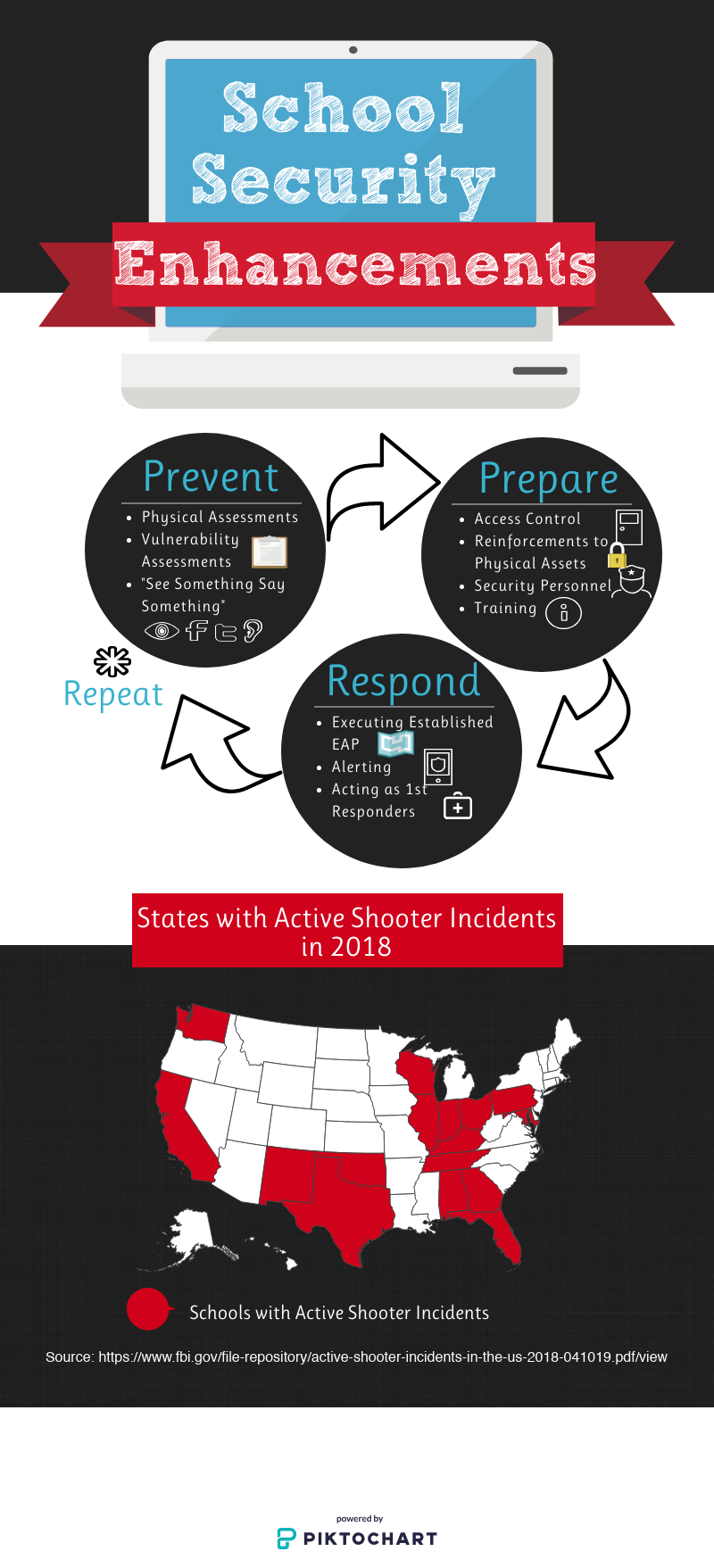 Prevent
We believe that the best defense starts with prevention. In other words, "Stop it at the door". This principle extends from formal security and vulnerability assessments completed by security experts to students listening for troubled peers on social channels. Prevention is always the best policy. But we do not live in a perfect world, so we must be ready.
Prepare
Even with the best preventative tactics, the chance for aggressive behavior in our schools should never be ruled out. Utilizing security assessment findings is essential. By identifying weaknesses in access control, live and recorded monitoring systems and security personnel shortcomings schools can make the necessary changes to minimize injury and ultimately save lives.
However, the key to being prepared is training. If everyone knows their role, where they should go, how to report when something occurs, the chance for survival is exponentially increased. When everyone is on the same page about "what to do" when violence does present, a life-saving response to the crisis is possible.
Respond
Do you know how you would react if faced with an active shooter? Most of us think we do, but, when confronted with a real-world situation we don't. When the proper preparation is in place, responding in a positive, decisive way is significantly increased.
Emergency Action Plans (EAP), critical trauma training experience, and active shooter drills empower us to respond to aggression. Teamed with proper security tools, the knowing "what to do" can turn a dire situation into a shining moment, diffusing a volatile situation before it gets out of hand and fatalities occur.
One tool that has been proven to save lives during hostile intruder incidents is Bearacade. According to the company's founder, Bill Cushwa, their company has learned a lot from prior incidents and has successfully protected many innocent people from violence:
"It has been a wild and sobering process for me since the 2012 Chardon High School shooting that resulted in the deaths of three young men, another being paralyzed for life, and the injuring of two more students. In looking at making the safest possible addition to a classroom, we didn't realize that our units would soon be in churches, synagogues, offices, military bases, government agencies, and national retailers.

To date, Bearacade units have been used during 30 actual hostile intruder incidents. Our solutions rapidly turn classroom and offices into safe rooms that buy those occupants precious time should an individual or individuals attack.

Our units are used to protect during a number of emergency situations, including domestic violence issues that follow into the workplace, workplace violence, violated restraining orders, custody disputes, hostile worker and parent matters, violence in the neighborhood that suddenly comes to you, and individuals more intent on mass harm.

Sadly, the current domestic and international extremist environment puts any public or private organization as a possible target.  We are just one layer of safety, but we are a critical solution for the public before the good guys come to calm a situation."
So, when determining whether your school has the proper security enhancements for the upcoming academic year, make sure to prepare, prevent and respond.
SACS Consulting Can Help Your School Prevent, Prepare and Respond
SACS Consulting & Investigative Services, Inc. can perform Physical Security/Vulnerability Assessments of your house of worship and train leaders, staff, and members to be ready for any type of security breach or life-threatening disaster. Don't wait until something happens, prepare for the worst-case scenario and gain peace of mind. Contact us to speak with one or our security and/or training professionals today to find out how you can be proactive and potentially save lives.